Must-Have Items to Keep in Your Cab
Most CDL regional or OTR truck drivers call the cabin of their truck home at some point. It is important for all drivers to stock up on various items that will make life easier and more efficient on the road. We have created a checklist of essential, must-have items you might forget to keep in your cab.
Must-Have Items to Keep in Your Cab
Cleaning Supplies
Keeping the cabin space clean is crucial for truck drivers because it helps generate a positive work environment. A clean space can limit stress and increase productivity because it removes any unnecessary clutter and dirt that could be a distraction. For truck drivers, a tidy cabin also improves sleep quality, a key element to top-tier driving. Items like all-purpose spray, disinfectant wipes and a mini vacuum can help keep your cabin free of any dust and dirt that accumulates over time. Many drivers have also found paper towels and garbage bags helpful for small spills and trash items that tend to pile up. At PTP Transport, we provide all drivers with cleaning kits upon request to ensure they have the materials needed to keep their cabin spaces clean.
Maintenance Items
Even with routine maintenance checks and up-to-date equipment, little things on your truck may need a quick fix from time to time. The right tools to tighten, replace or straighten small problem areas can help eliminate the wait time for roadside assistance. Work gloves, a flashlight, extra fluids (windshield wiper, oil, coolant, etc.) and a tool kit are all useful items to keep in your cab in case you find yourself in a pinch. While some problems are minute, it is important to remember to call for assistance if needed and keep your safety a priority. One of the many driver benefits at PTP Transport is 24/7 Penske Roadside assistance to ensure our drivers make it from point A to point B safely.
Toiletry and Personal Items
Self-care is important for everyone. Taking care of yourself on the road can be more difficult and not nearly as convenient, which is why many drivers push it to the back burner. Whether you are a seasoned or new CDL driver, toiletry items tend to be overlooked and forgotten. Shampoo, deodorant, toothbrush, shaving tools and body wash are hygiene essentials to keep on hand for truck stops. Drivers also find personal items; important phone numbers, a cellphone charger and a first-aid kit to be also helpful in a variety of ways. Both toiletry and personal items are necessary to upkeep a good self-care routine.
Entertainment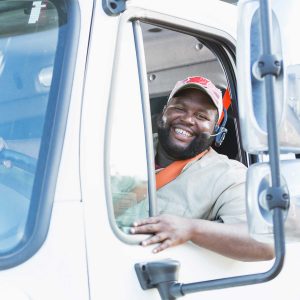 Many drivers tend to rely on a smartphone for their primary source of entertainment. However, less time on electronics is shown to be beneficial to truck drivers' well-being. Non-electronic entertainment items also help keep the mind sharp which plays a large role in maintaining your mental health on the road. Books, word searches, crossword puzzles and Sudoku are great screen-time alternatives to help you wind down after a long day of driving. If you prefer electronics, a portable DVD player, a tablet and even a Gameboy or Nintendo can be useful items to keep in your cab.
PTP Transport wants drivers to feel supported while they are completing deliveries which is why we offer a variety of benefits and a competitive salary. Visit our contact page or give us a call at 334-539-5965 to learn more about driving with PTP Transport.