Mental Health Tips for Truck Drivers
Mental Health Tips for Truck Drivers
Did you know truck drivers are at a higher risk for anxiety, depression and PTSD? This is largely because life on the road can be stressful and negatively impact truck drivers' mental health. For drivers, not focusing on mental health can cause a variety of negative consequences. At PTP Transport, we care about our drivers and want to support them in any way we can to ensure not only their safety but the safety of others on the road. Read this month's blog to learn about a few mental health tips for truck drivers.
#1 Stay Connected with Loved Ones
One of the hardest parts of truck driving is being away from friends, family and loved ones. We understand the importance of staying connected with those who care about us while on the road. Spending time at home can make all the difference to your family. PTP Transport prioritizes our drivers, and offers home-based resets. We do our best to get our drivers home at night.
Here are a few helpful tips for staying in touch on the road:
Daily phone calls, video chats and text messages are a great way to stay in touch when you have a break from driving.
Send postcards to your family to keep them up to date on your travel journeys.
Drive with photos and other sentimental items that remind you of home.
#2 Keep Your Mind Sharp
PTP Transport values the health of each driver. Keeping your mind sharp plays an important role in healthy decision-making and overall mental health. It is important for truck drivers to do activities that stimulate their brains to boost memory, focus and concentration so that they complete their loads in a timely, efficient and safe manner.
Here is a list of activities that help keep your mind sharp:
Do a jigsaw puzzle when you aren't driving. This exercise improves short-term memory and increases your ability to problem solve.
Complete a word search or crossword puzzle to put your vocabulary to the test.
Figure out a new way to do a daily task. This seems simple but changing up your routine can positively impact your mind over time.
#3 Get Enough Quality Sleep
Getting enough sleep is one of the simplest ways to care for your body both physically and mentally. Maintaining a healthy sleep schedule while living on the road can be tricky but is a crucial part of maintaining your mental health. Without enough quality sleep, truck drivers can suffer from chronic fatigue and sleep apnea.
Tips for maintaining healthy sleeping habits while on the road:
Avoid consuming too much caffeine during the evening.
Try using a weighted blanket to help you stay asleep.
Switch out electronics for a book or a sound machine before bed.
#4 Find Ways to Relax
Truck drivers face several stressors while living on the road. At PTP Transport, we try to make the lives of our drivers easier by offering a variety of benefits as well as open, clear communication to decrease unnecessary stress. Finding ways to relax and decrease stress while on the road is important for truck drivers' mental health.
Ways to relax and unwind when you're living on the road:
When you're not driving, get moving. Exercise is an easy way for your body to let off steam and relax after a stressful day.
Meditate or practice deep breathing exercises.
Listen to your favorite music or podcast.
#5 Know the Warning Signs
Anxiety and depression are very common among truck drivers. Being aware of changes in your mental help can help you detect when something may be wrong. It is important to recognize the beginning signs of anxiety and depression so you can seek help sooner rather than later.
Warning signs for anxiety and depression:
Muscle tension
Intense sweating
Mood swings
Feeling nervous or tense
Insomnia
Feeling of hopelessness
#6 Seek Help
Admitting you may need help can be extremely difficult to come to terms with. In an industry that has a "tough guy" persona, truck drivers are quick to overlook the warning signs when they are struggling. It is never too early to ask for help if you feel a little off. Often, just talking to someone about what you may be feeling can help.
Resources to keep in mind if you feel like you need help:
Truck driving is not an easy job, but we are thankful there are drivers that do it. PTP Transport values each one of our drivers and aims to ensure their health and safety on the road. The mutually beneficial relationships we develop with drivers create a positive driving experience and allow for open, reliable communication. At PTP, we care about the mental health of our drivers and do our best to make sure they feel valued and supported.
Want more information about driving for PTP Transport? Email, instant chat, or call us at 334-539-5965 to speak with our team and get your questions answered.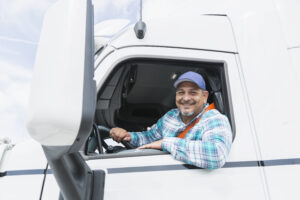 Looking to drive for a company that cares? #DrivePTP
PTP Transport values our drivers and all the hard work they put in to keep delivery going. That's why we offer a variety of benefits such as a competitive salary, a $3000 sign-on bonus, and home-based resets to make sure our drivers feel supported.
Apply to #DrivePTP Today!