Women in Trucking: In It for the Long Haul
Women in Trucking: In It for the Long Haul
Changes in the trucking industry, including driver shortages paired with other supply chain and logistics challenges, have offered more opportunities for women to get in the driver's seat.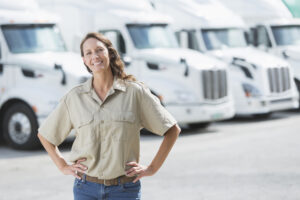 Why More Women are Turning to Trucking
Women make up about 7 percent of the trucking workforce. That number is growing, especially among younger women and minority women. Trucking offers a steady income and potential for a flexible schedule. Some women have turned to trucking to help pay off debt, and even document their journeys on social media.
Because the demand for truckers is high, companies like PTP Transport are doing everything we can to fill our team with quality drivers. We are focusing on better training, increasing pay and providing better working conditions for truckers – including time at home with family as often as possible. These are benefits and qualities that women tend to look for in a workplace, which makes trucking a great option.
How to Keep Women in Trucking
According to Trucker, retaining women truck drivers heavily depends on cultivating a work environment that emphasizes training, safety, flexibility and benefits. A few of the top recommendations experts say can help keep truckers, especially women, on the road include:
Generally positive and inclusive company culture
Competitive benefits, including schedule flexibility, time at home, office amenities such as female locker rooms, health insurance and bonus opportunities
Employee recognition and appreciation
Ongoing training, with a special focus on safety
Building community with other truckers and dispatchers, including through social media use
Good communication practices within the organization
How PTP Transport is Supporting and Recruiting Women Truck Drivers
PTP hires women truck drivers and is proud of the work they accomplish every day. Many have found success in our shuttle driving positions, but others have taken positions as regional drivers. We offer competitive opportunities for all our drivers, and place special attention on the following:
A focus on safety and relevant safety training
Competitive benefits, including signing bonuses
Flexible dispatch for more time at home (Home Resets)
New equipment
Open communication and opportunities to provide feedback
For more information about PTP Transport and the benefits of being a part of our team, click here to learn more or send us a message.