Brake Safety Week 2022
Brake Safety Week 2022
Why Equipment Maintenance is Important
In 2019, there were more than 500,000 large truck accidents reported to law enforcement. Many of those were due to equipment-related issues that could have been prevented with routine maintenance checks. At PTP Transport, we prioritize the safety of our drivers and other motorists by ensuring our equipment is maintained and functioning properly. We want to bring attention to the importance of Brake Safety Week and highlight equipment safety and maintenance.
What is Brake Safety Week?
Brake Safety Week is an annual commercial motor vehicle brake-safety inspection, enforcement and education initiative. The inspections are conducted by law enforcement in Canada, Mexico and the U.S. and reported to the Commercial Vehicle Safety Alliance (CVSA). During Brake Safety Week, inspectors will check equipment and report on brake-related data. Outreach and educational efforts by the inspectors and other motor carriers in the industry also take place during Brake Safety Week.
Inspectors will look for missing, non-functioning, loose, contaminated or cracked parts on the brake system, and non-manufactured holes like rust or friction holes. Additionally, they will look for broken springs and listen for audible air leaks around brake components and lines. Other points of interest during the inspections include ensuring the air system keeps an air pressure between 90-100 psi and making sure that slack adjusters are the same length and the air chambers on each axle are the same size.
A key part of the inspection is checking the brake-system warning devices. Proper functioning Anti-lock Braking System (ABS), malfunctioning lamps, low-air pressure warning devices and breakaway systems are very important for safe commercial motor vehicle driving.
The Importance of Equipment Maintenance
Although the brakes on commercial motor vehicles are designed to hold up under tough conditions, they must be inspected and maintained to perform properly throughout the vehicle's life. Routine maintenance checks of the equipment are also essential to the overall safety of truck drivers and other drivers on the road. If brake systems are not maintained and function properly, vehicle collisions can occur.
According to CVSA President Capt. John Broers with the South Dakota Highway Patrol, "Poorly maintained brake systems can reduce the braking capacity and stopping distance of large trucks and motor coaches, which poses a serious risk to the driver and public safety."
PTP Transport values the safety of our drivers which is why we offer up-to-date equipment. Our equipment is a 2017 or newer Freightliner Cascadia with automatic transmission and an Auxiliary Power Unit (APU). PTP also offers onsite fueling, Penske 24/7/365 Penske Roadside Service, and a Penske Comprehensive Maintenance Program to ensure our equipment is functioning properly.
To learn more about our equipment maintenance and other benefits of driving for PTP Transport, visit our website.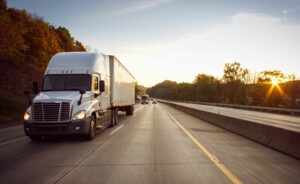 #DrivePTP means driving with safety in mind.

PTP Transport works hard to ensure the safety of our drivers. We take several measures to ensure fleet safety and incorporate safety into our driving standards. Visit our website to read more about PTP's fleet safety efforts.