Small vs. Large Trucking Companies: Who Should I Drive With?
Small vs. Large Trucking Companies: Who Should I Drive With?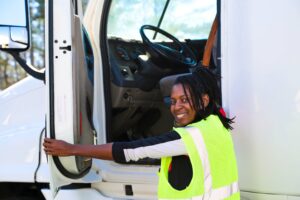 Becoming a truck driver is no easy feat; it requires maneuvering nearly 60,000 pounds of a big rig down busy roads, interstate conjunctions and delivering goods in a timely, efficient manner. Not only are you in charge of a loaded, moving tractor trailer, but you also hold a responsibility for safety on the road with other drivers. Once you figure out the logistics and skills (there's a lot!) behind driving a truck, it's time to figure out what trucking company to drive with.
Knowing what you're looking for in your truck driving career can help you figure out if a small or large truck driving company works best for you. In this blog, we'll discuss the benefits and pay of small versus large trucking companies and how to determine which company might be the best fit for you.
Benefits of Driving with a Small Trucking Company
Driving with a small trucking company has its perks.
#1. Family Time
Often, smaller companies offer special employee perks to help their team members succeed. Having time off is a great way for employees to unwind, relax and take a breather after a busy week. PTP offers home-based resets, which allow you to spend time throughout your work week, at home with family. We believe that family time is an important part of company culture, and we strive to help our team members get home when we can.
#2. More Competitive Pay
Do not be misled, small trucking companies can offer competitive pay to their truck drivers. Since smaller companies are likely to have specialized clients who can pay higher fees for services, there is an opportunity to give that added financial compensation to employees of the company. Overhead and fixed costs are also lower for small, local trucking companies.
#3. Family-Like Atmosphere
At PTP Transport, we offer our drivers the warmth and welcomeness in our family-like atmosphere. Communication is one of our highest priorities and we aim to bridge the driver-manager gap by providing our team members with an open line of communication with dispatch. We believe in the value of having reliable managers, who aim to communicate and build relationships with our drivers. It's the number one reason our drivers love to drive PTP Transport.  Learn more about the benefits of #drivingPTP.
Benefits of Driving for a Large Trucking Company
Large trucking companies come with a handful of benefits, just like working for a small company. Large trucking companies can offer a variety of freight and the ability to travel further across the country (if time on the road is what you are seeking).
#1 Variety of Freight
With a larger trucking company comes the ability to have variety of freight to work with. If you're bored with driving the same routes with the same hours, there's opportunities to change up your schedule or the type of operations you wish to participate.
#2. A Large Amount of Resources
Large, well-known truck driving companies have a leverage against their smaller competitors. These companies have longevity in the market, have a structured financial foundation and are likely able to provide more resources to their employees. They have a variety of freight and driving opportunities and can provide multiple types of trucks in their fleet for different divisions.
#3. Larger Equipment Inventory
Large trucking companies typically have larger inventory of equipment. Larger carriers also can enjoy the benefits of working within a broad business ecosystem, meaning they are guaranteed to have cargo for loading.
Ready to Find Your First or Next Trucking Company?
Working in the trucking industry means working with companies who are devoted to delivering loads in a timely, efficient manner. If you're looking for a trucking company to start your truck driving career, consider applying to PTP Transport. Our team is committed to providing excellent, reliable customer service to our many clients in the Southeast.
To apply, visit our website or speak to a member of our team at 334-539-5965.